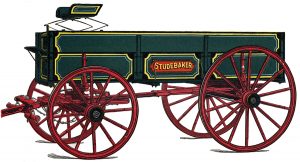 Come one come all!  It's time to shine up those cars, trucks, wagons & weasels and head to Florida to show them off.  We are planning a fantastic weekend in Gainesville. It's the 49th Southeast Zone meet! Our theme is "Horse Power: 1852-1920".  This meet will focus on Studebaker's birth & following success in wagon manufacturing.   Yes, before there were Presidents, Commanders & Champions there were wheelbarrows, surrey's & wagons.
We're kicking off the weekend with a country dinner & barn dance Friday night, free to all registrants.
We are also excited to welcome Richard Quinn to our meet.  Mr. Quinn is a Studebaker historian and will be giving a short presentation on Studebaker's wagon years before our awards banquet.
Sunday morning enjoy coffee & donuts at Stephen Allen's LLC in nearby Newberry & see the Cade Studebaker collection.  Something you don't want to miss!
Registration is open now.   Avoid the late penalty by sending in your registration before April 2nd, 2018. There is a $10.00 penalty after April 2 and on day of event registrations. See the registration page for more details.
For more information contact Martha @ 386-418-8252 or email zonemeet@bulletnose.org
We hope to see you in Gainesville this April!